Fine Art Restoration in Minneapolis, MN
Caplow Custom Frame and Restoration was established by Nate Caplow in Chicago and moved to Minneapolis in 1954. Nate retired in 1982 and it was at this time that Jane Westerlund took over the company. For 30 years now she has continued his legacy for fine quality custom framing and fine art restoration in Minneapolis, MN.
.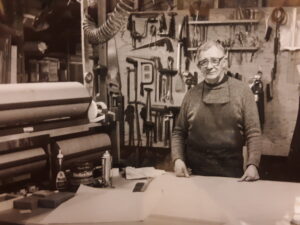 Jane has brought a wealth of knowledge and experience to the Caplow Company through her studies of drawing and design at the Minneapolis College of Art and Design. Further studies include painting, in-depth color study, book arts, and calligraphy. Jane has researched and examined ancient manuscripts and alphabets which has brought her a greater understanding of paper, illumination and archival preservation. During her research on illumination, Jane studied alongside Donald Jackson who went on to complete the widely celebrated St. John's Bible; pictures of which can be found on the Featured Artists page. She is a charter member of the Colleagues of Calligraphy and has taught calligraphy at the North Hennepin Vo Tech Schools. She has also hosted multiple color workshops across the Twin Cities area. Her experience and reputation have attracted a variety of customers from professional, commercial and residential settings who continue to return to her year after year for the level of quality and care that she provides for all their fine art and custom framing needs.